Free worldwide delivery!
Welcome to Bricktinter.com
The Dyebrick Brick Staining Kit is a three-part mixing system designed for the DIY enthusiast to produce a natural, permanent color modification to brick, mortar and a variety of masonry surfaces. There are eight standard colors available. They can be diluted to produce different shades or may be blended with each other to produce an even wider range of colors. Each kit comes with detailed instructions, mixing pot, gloves and a test application brush.


Dyebrick brick stains are a blend of finely ground, inorganic, micronized iron oxide pigments. They are then modified to produce the finest brick color stains in the world.
Our products are water based and are purely inorganic in nature. They are non-toxic, non-harmful and contain zero v.o.c.'s (volatile Organic Compounds).

Dyebrick brick stain has been designed to absorb into the surface of the masonry, whilst also coating the surface finely ~ to produce a natural colored appearance, of your choice, which will not hide the surface texture.
Our tints chemically bond with all types of masonry backgrounds, producing a micro-silicate bond within the structure ~ it literally becomes part of the building!

Dyebrick brick stains should not be confused with proprietary 'film forming' masonry paints with their inherent maintenance commitments.

Dyebrick is usually applied by using good quality bristle paintbrushes and can be applied to many surfaces like: BRICKWORK, CONCRETE, STONE, MORTAR, RENDER, BLOCKS, CONCRETE ROOF TILES etc.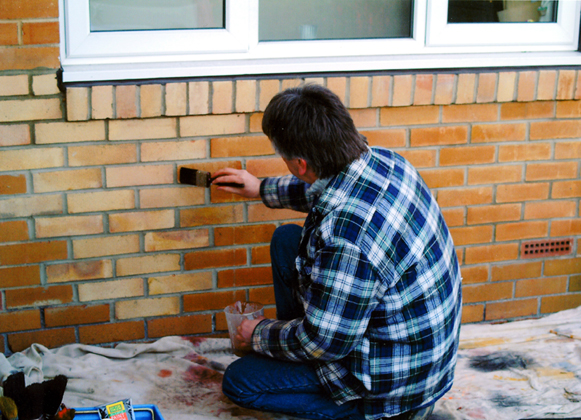 Application of Dyebrick Warm Orange.